As swing set season is quickly approaching, we wanted to get you the list of the best backyard swing sets and playsets so you can make a decision about your backyard plans. Do we know your needs and budget in great detail? No. But this is a great starting point if you're starting your search for a great playset that your kids will love. We also broke out each of our top picks into different categories based on some popular needs and price ranges to make your research process a little easier.
If you're interested in learning more about a particular swing set, please let us know. We are currently working on our library of comprehensive reviews and would be happy to see about getting to one you have your eye on.
The Backyartisan's Short List: Best Backyard Playsets
Mountaineer Swing Set by Gorilla Playsets
Backyartisan Rating: 4.35 stars
This swing set packs in a lot of fun at this price. It's deck stops at 5 feet, but still gets a full-blown spiral slide in there. You'll also see the wave slide and picnic table. Overall, you don't have to spend a lot more than the basic sets but you'll get a Gorilla heavy duty set and a few more accessories than you'd normally get for a few hundred bucks cheaper.
Where It Shines:
Durable and heavy duty
Multiple climbing and sliding options
Swings for up to 3 kids
Where It Could Improve:
Still over $2,000
Installation is not for the faint of heart
Treasure Trove II by Gorilla Playsets
Backyartisan Rating: 4.4 stars
This playset has it all, and is particularly great with the slide options - the long scoop slide, spiral tube slide, and wave slide all in one set. This set is hard to come by at the moment as Gorilla seems to be backed up in shipment. The primary reason for delays? Certain parts aren't in stock, so the more parts, accessories, etc. that are part of the set, the more likely it will be out of stock. In this case, you may want to check availability of the Treasure Trove I, as it is the same as the Treasure Trove II but without the 14' scoop slide -- the price difference of $300-500 accounts for this change.
Where It Shines:
Has tons of options
Durable and heavy duty
Where It Could Improve:
May be hard to find
Expensive set
Will take a long time to install
Backyartisan Rating: 3.55 stars
With the Montauk, you can differentiate your playset with these unique colors, something not normally done by playset companies. The eye-popping blue slide and accompanying shade as well as the light grey stain finish is going to stand out among the backyard options out there. With a 2-story playhouse and 3 swings, this has some nice features for the kids. This set is only found at Target at this time.
Where It Shines:
Unique colors
Spiral slide
3 seat swing
Where It Could Improve:
Assembly may take a few days
Only at Target
Canyon Creek by Backyard Discovery
Backyartisan Rating: 3.75 stars
The Canyon Creek playset has a great fort kit atop its base with 2 lookout points that provide cover to a clubhouse setting. This swing set is perfect for imaginative play for boys and girls, even including a pretend grill, periscope, and chalkboard. Kids should love the various options, available, even if it has only one slide.
Where It Shines:
Good looking swing set
Great price for the expansive fort option
Where It Could Improve:
Only one slide
Forts add a little more to installation
Backyartisan Rating: 3.75 stars
The Belmont is great for covering all the basics (slide, climber, swings), but also includes a picnic table. This Backyard Discovery set comes in 3 boxes and assembly is straight forward. The Belmont Wooden Swing Set will get your kids out of the house at the price under $800.
Where It Shines:
Budget friendly
Assemble in 1 day
Cover your basics
Where It Could Improve:
Not heavy duty
Best suited for younger ages
Not many bells and whistles
Great Skye I Swing Set by Gorilla Playsets
Backyartisan Rating: 4.15 stars
The Great Skye I by Gorilla packs the 7' turbo slide into a tight space on one deck. We think it's unique that this playset checks a lot of boxes while still getting you the cool slide combinations. With a ladder, rope ladder, and rock wall, there's a great set of climbers for this one fort playset. Gorilla makes a premium product, and you should rest easy knowing it'll last for years to come. If you have the room for a larger footprint and want to add a 14' scoop slide, the Great Skye II is the upgrade you're looking for.
Where It Shines:
Premium quality swing set
Unique 7' spiral slide in a tight fit
Where It Could Improve:
Assembly of Gorilla Playsets is complex
High end price tag
How We Picked the Playsets on This Short List
Shipping & Receiving Process
Receiving a playset shipment is complicated. For your bigger swing sets, it involves multiple pallets, trucking company appointments, and a whole lot of unboxing. We like playset manufacturers that make that process easy on you.
Installation & Setup
The installation process for a playset is time consuming to say the least. Can you install a swing set yourself? With the right tools, a few helping hands, and a little elbow grease anything is possible, but you may want some playset installers to help you out. We looked for playsets that make the process, let's say, relatively painless. There's always going to be a little bit of frustration in our opinion.
Stability & Durability of Materials
A backyard swing set is a significant investment so you want to make sure that the materials are durable and can last more than just a season or two. We look at joint quality, hardware, wood thickness, plastic thickness, wood stain, weight limits, and more in this category.
Play Elements
Probably the only criteria from your kids' perspective, we look at all the different play elements available on the playset and if you're getting enough bang for your buck. This part of the research process includes:
Ups, downs, and acrosses (all the slides, ladders, etc.)
Swings
Social play accessories (sandboxes, games, etc.)
Solo play accessories (steering wheels, binoculars, etc.)
Roof and kit options
Of course, the cheaper playsets are going to have less features, we just want to make sure you're getting great value for what you pay for.
Price & Value
Speaking of getting what you're paying for, playsets aren't cheap. Like we said, we want to make sure you're getting value for your dollar, no matter what your budget is. So, we included options for all ranges of budgets from cheap playsets to expensive playsets with more features and better durability.
For more info on all the criteria you should be looking for in a playset, read our full guide on how to buy a swing set.
Recap: The Best Backyard Playsets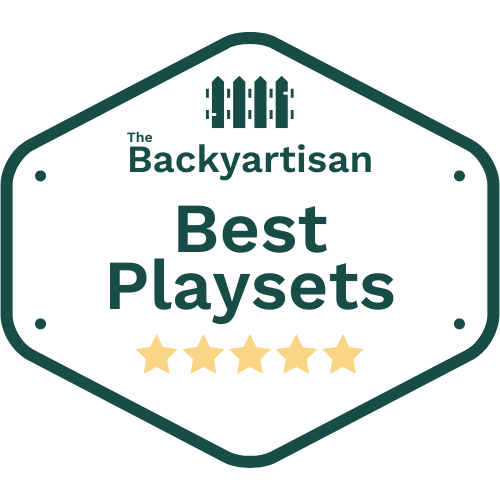 More Short Lists
Looking for more recommendations? Check out our other Short Lists for playsets: